We sell, service, and install steel doors and frames manufactured by Premier Steel Doors and Frames. Many steel doors are used for exterior applications. Exterior doors receive unusually rough treatment and are subject to scratching, marring and therefore, rusting when the metal is not properly protected. Zinc coating on hot dipped galvanized steel will protect the exposed steel over a considerable area of bare surface when the paint covering is removed. Hot dip galvanizing also protects the door from rust from the inside-out. All doors manufactured by Premier have hot dipped galvanized faces and are available at no additional cost.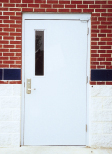 We sell interior aluminum frames for interior finish out projects. 
Contact us
 for pricing and availability.
HAVE A QUESTION? ASK OUR EXPERTS!